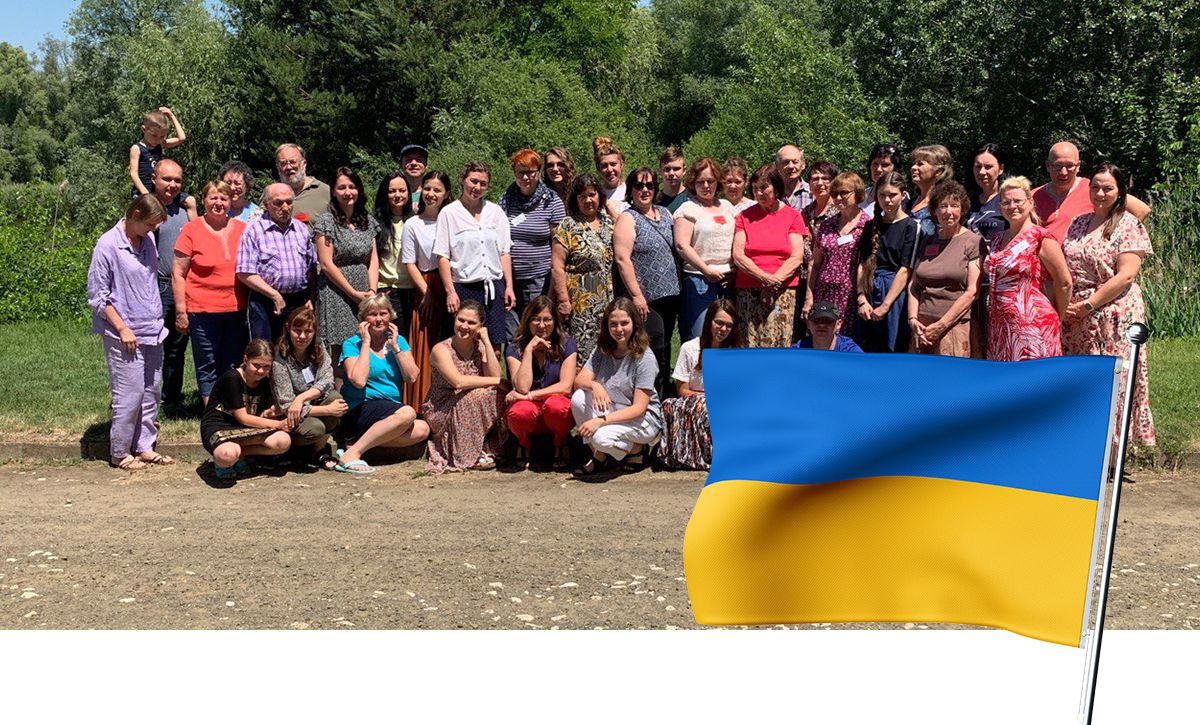 "The human body has many parts, but the many parts make up one whole body. So it is with the body of Christ…. we have all been baptized into one body by one Spirit, and we all share the same Spirit." 1 Corinthians 12:12-13 (abridged)
This Scripture has been the mainstay of a lot of the work that is carried out through our teams in Ukraine, Russia and the surrounding regions. Whilst the war continues and the suffering and injustices are continually being faced, our teams have been working hard at maintaining a connection and unity that goes above and beyond political and geographical boundaries. We hope that this report encourages all of you who gave so generously to our appeal this year and who have prayed for our team in Ukraine. You may not have been able to visit Ukraine personally, but your support has born great fruit.
Ukrainian Healing Week
In June this year, a Healing Week was run for Ukrainians at our Hungarian centre, Úr Rétje. Some guests had fled Ukraine and travelled from many nations to join the event, including many also from Ukraine itself. Anya made all the arrangements from Kherson, then under Russian occupation, and had to make a week-long, 4500km tense journey to reach Hungary to help lead the event. Amazingly, our Russian leaders, Misha and Olga were granted visas to join the event, which proved to be a part of very profound healing for all attendees.
As one guest wrote afterwards, "When I heard that there'll be Russians on the Healing week, I was horrified as I hated all of them. When Misha repented on behalf of the Russian people, I felt much better. Today I was able to give Russians into God's hands."
Tamas Kovacs, Regional Director for Ellel Ministries Central and Eastern Europe, says, "God was working with us in very powerful ways – through teaching, times of fellowship, creativity, personal time with God and ministry too. God's presence and love did an extraordinary work in the lives of guests."
Even now, as this article is published, Tamas, Anya and the team are running another one of these events for Russian speakers and are confident that God will bring hope and healing to all those involved.
From Kremenchug and Beyond
Our team in Kremenchug and other areas are continuing to minister and teach as much as they can, both to those who were already connected with Ellel in Ukraine but also to the victims of war that are seeking help.
They moved their Explore course online as many of the delegates had been scattered far and wide across the world. In September, 150 delegates celebrated completing Explore B – an absolute miracle and in perfect timing. Since then, the Russian shelling and attacks have been focussed on the infrastructure of the country, leaving many homes with no electricity, internet or mobile connection, water or heating, making running online events almost impossible.
In early December, the team are travelling to Kharkiv (a small town that suffered greatly at the during the war as it is close to the Russian border) to run a one-day healing event. The pastor of the host church has said that in June, there were about 30 people in his church, and now about 200 people attend Sunday services.
One fruit of the work of our teams is a deeper and more profound understanding of how to minister to victims of war
One fruit of the work of our teams is a deeper and more profound understanding of how to minister to victims of war and they are starting to run special events around Ukraine for this specific topic. The first one was run in Kryviy Rig (a large city bordering Kherson). These events will be run in Poltava and Dnipro during December.
Please pray for the safety for our teams, particularly as they travel and for energy and spiritual strength from the Lord. Please also pray for the protection of electricity, internet, gas and water supplies to the venues they are going to so that many will be able to attend and receive from the Lord. 
Kherson – Liberated but not Free
As you read earlier, Anya left Kherson (then Russian occupied) on a fairly treacherous journey to attend the Healing Week in Hungary in June. She was also able to take some time out for a few weeks before sensing it was time to go back to her hometown and continue her ministry there. Having to repeat the arduous journey home, God provided her with a friend to travel with her and incredible protection as the Crimean bridge was shelled only a few hours after she crossed it.
In mid-November, Ukrainian forces liberated Kherson and Anya was able to celebrate with the rest of her city. However, the withdrawal of Russian forces has not left them totally free. Now they face constant shelling, with attacks focussed on the infrastructure, leaving most of Kherson without water, electricity, gas, mobile or internet connection or heating.
Anya writes, "During this time we ministered to people almost daily both physical & emotional healing. We also resolve practical issues such as drinking water, food (some days people were not able to get out due to shelling so we did it), candles, batteries & of course medicine. Our pharmacies are still closed and we buy a lot of medicine with the money donated through Ellel International and distribute it."
Many people are still leaving Kherson as the shelling continues, or move to the outskirts of the city as it is safer there. This includes moving close to Anya's home where she is able to provide them with food and water and offer spiritual and emotional support.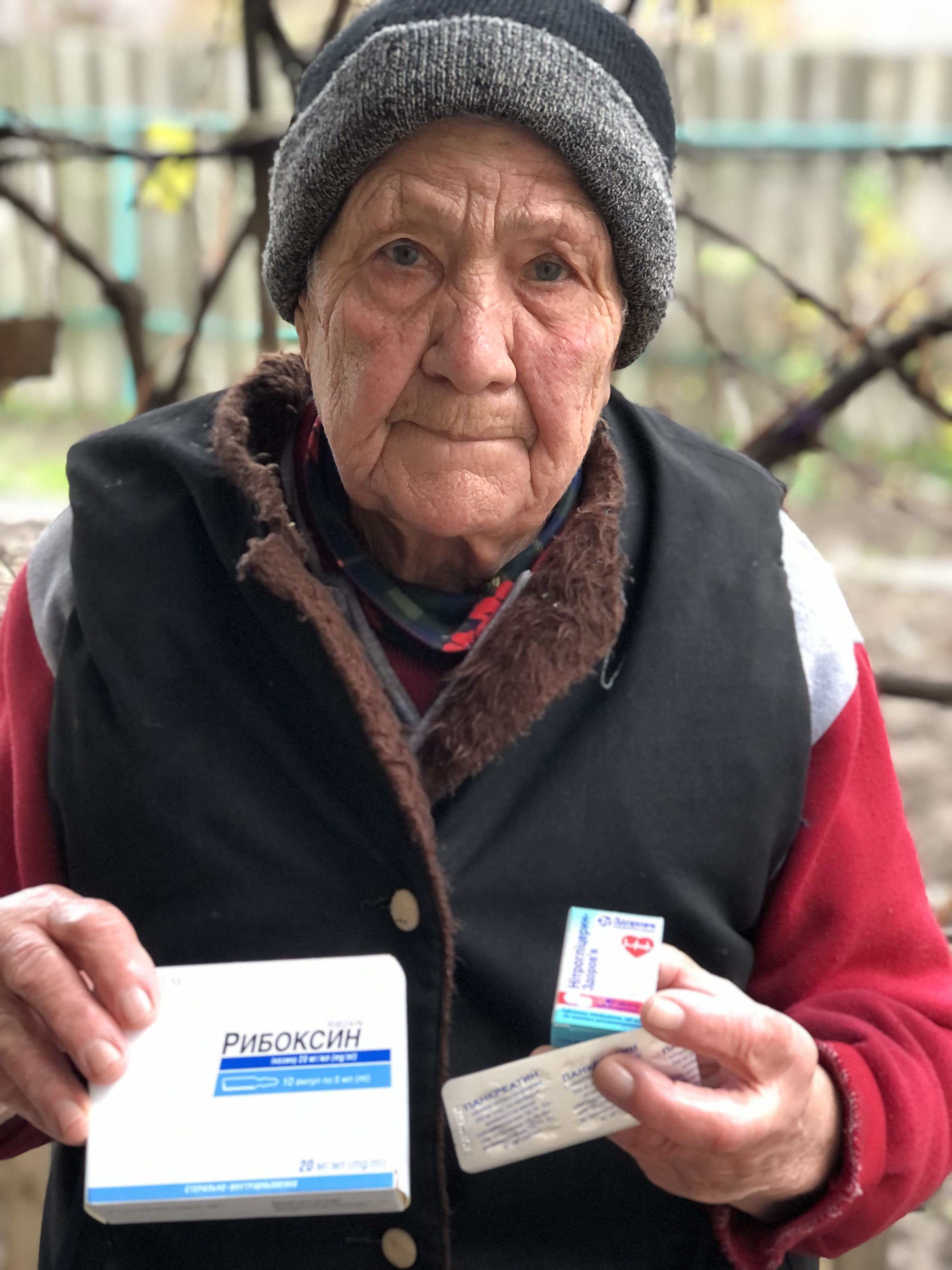 Now Kherson is liberated, there is more connection and freedom to move within the country, which has led to incredible opportunities. Anya puts this in her own words, "Since Kherson became open to enter from Ukraine, brothers and pastors from other cities brought food last week for the first time. Together we went to places where nobody went before. We were in a minivan moving slowly, when we'd stop, immediately groups of people who followed us would gather and we had multiple opportunities to hold evangelism meetings at roadsides where we prayed for people and shared both physical and spiritual bread. One pastor offered lady on a wheelchair to pray for her, people from crowds said that they all need to be prayed for."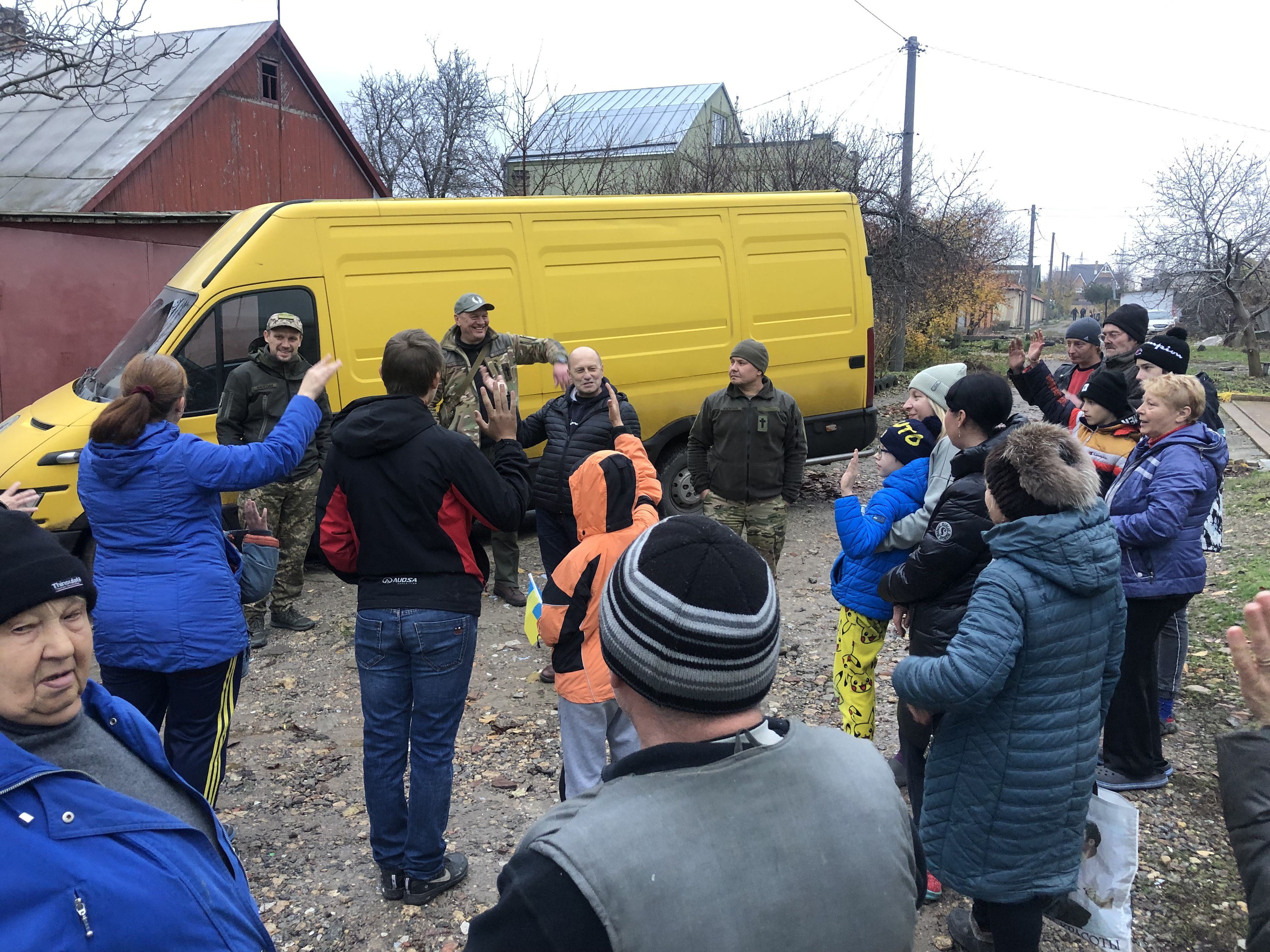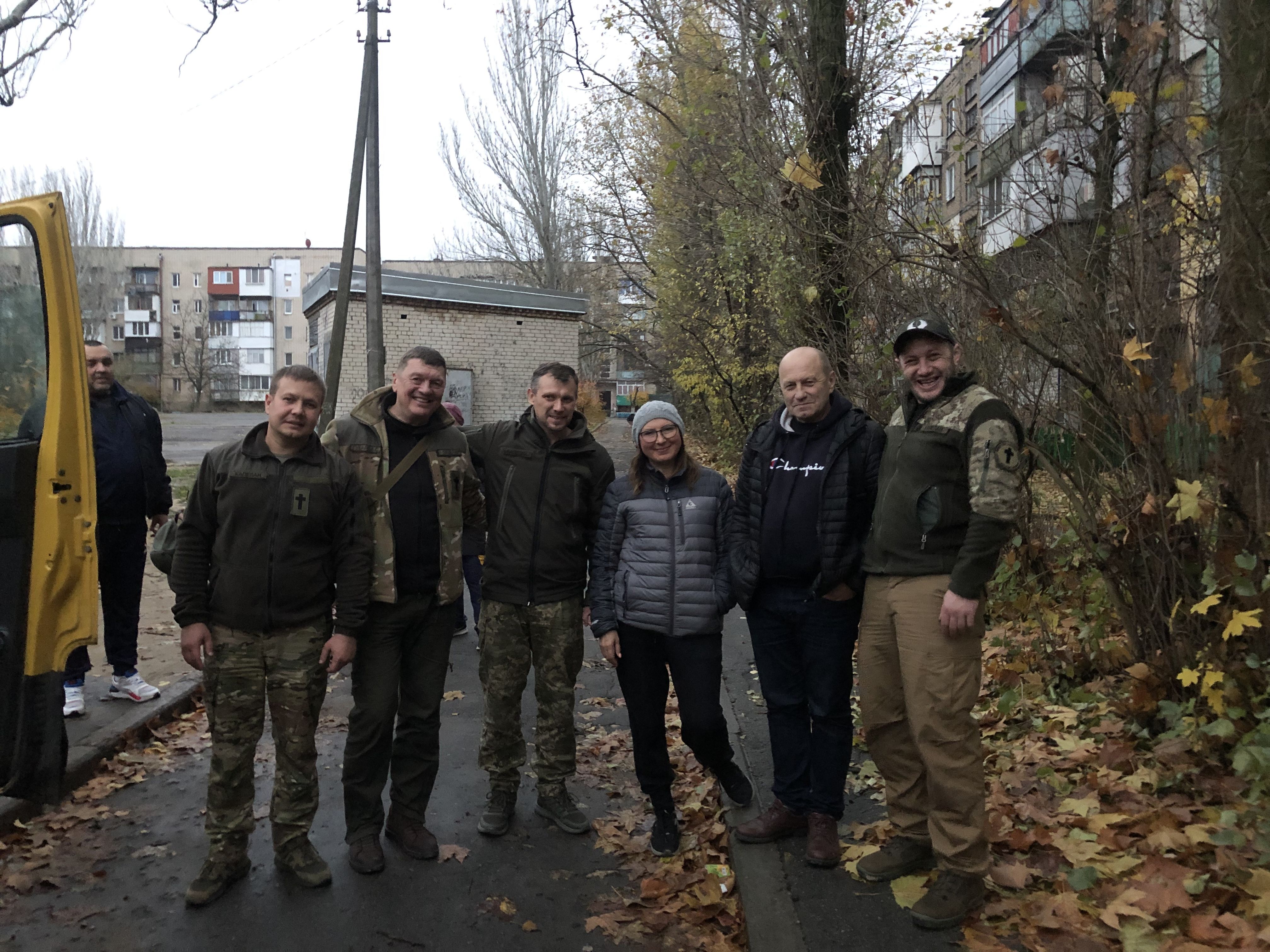 Anya and her team continue to run weekly Prayer Support Group meetings (online) and Zoom livestreams for all Russian speakers. Both are well attended by people from Ukraine, Russia and many other nations where there are Russian speakers or Ukrainians have fled to. Please keep praying for protection of the internet connection so these events can take place.
Anya asks that you continue praying for safety, for God's supernatural defence to work over the city, for people to turn even more to the Lord saying, "Our help is only from Him!" There are needs and a lot of opportunities for God to be glorified in Kherson and they need wisdom & guidance as they continue their work.
Beauty for Ashes
"To all who mourn in Israel, he will give a crown of beauty for ashes, a joyous blessing instead of mourning, festive praise instead of despair. In their righteousness, they will be like great oaks that the Lord has planted for his own glory." Isaiah 61:3
The reports coming from our teams in Ukraine are ones that bring this Scripture to life. Nina reminds us of the prophetic word that was shared about revival in Ukraine after the war. She says, "The home groups in Poltava church have been so over-crowded by new believers who joined the church in the last several months that there is a big shortage of home group leaders for them. We can observe the similar situation almost everywhere in the churches of Ukraine. It seems it is the beginning of revival."
Many have given their life to the Lord through their visits and provision of aid, medicine and support.
Anya and her team continue to visit the homes of many, both Christian and non-Christian. Many have given their life to the Lord through their visits and provision of aid, medicine and support. She also is seeing the start of revival in the nation and writes, "I have lived in this region all my life and only now due to war, this region is being evangelised for the first time. All glory be to God!"
Personal Notes of Thanks
There are many individuals in Ukraine who would like to pass on their thanks to you for your prayer and financial support via Ellel International of our teams who are ministering to them both practically and spiritually. We will leave the final notes of thanks from our leaders:
Nina writes:
We are very grateful to everyone who lifts us in prayers and supports us financially. It gives us opportunity to stay inside the country and continue with God's work here.
Love from Ukraine. Nina and the team.
Anya writes:
Abundance of blessings and thanks for your support and especially for your faithful praying. Numerous times I ended up in a right place in a right time and have been kept safe. I know for sure that prayer works and God is with us. Please continue to hold us in your prayer! With heartfelt thanks, from me and from a lot of people in Kherson, Anya