---
Roger Pook, who is part of our Executive Leadership, shares how his adventures started at the age of 50, with his wife Christine, as missionaries for Ellel Ministries in Eastern Europe.
---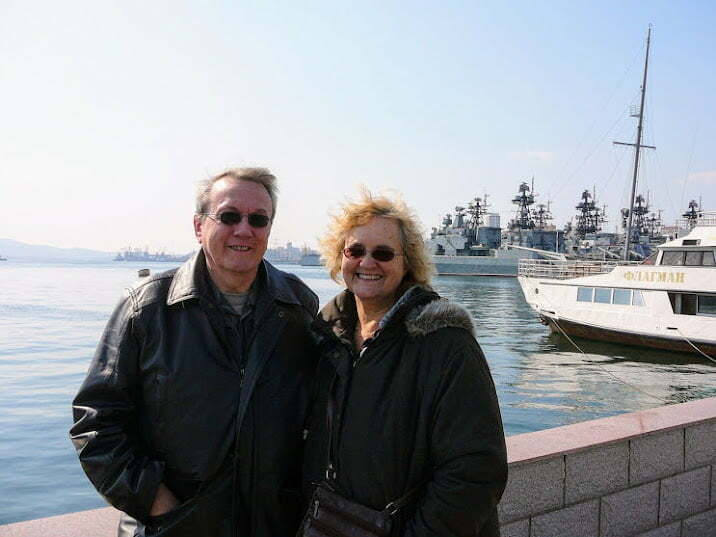 Roger & Christine Pook, Vladivostok
Back in 1994, it seemed that Christine and I were doing more or less OK, spiritually speaking. Born again, Spirit-filled, serving in our local church, training with Ellel Ministries, and visiting Romania about once a year to help in various ways at a Baptist Church in Baia Mare. What good Christians we were! And at 50 years of age, our life-path seemed to be firmly set.
But God had other ideas, and much more exciting ones too. He spoke to us audibly, first to Chris and then to me. The gist of the message was that we should leave behind our life in the UK and serve full-time with Ellel Ministries in Eastern Europe! Through 1995 we watched in amazement as all of our problems and responsibilities were gently moved out of the way and everything that we needed for this move was supernaturally provided.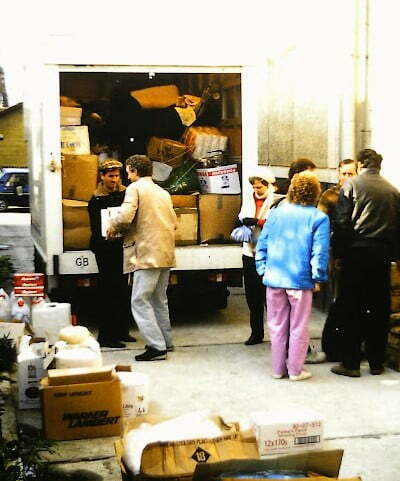 Romania: Delivering aid
Some of what we needed had been provided years or even decades before. From childhood we both loved travelling. Chris had a variety of nursing and caring qualifications and a real gift for caring with love. I had a gift for languages: I had a degree in Russian, I spoke good French and had a smattering of other languages. Languages were not a problem, and neither was speaking in public. God had prepared us!
Finally in January 1996 we set off for the Ellel base in Hungary in a second-hand Jeep Cherokee towing a very well-laden caravan. It never once occurred to us that this might not be "the sensible thing to do" – it just seemed logical and inevitable, once God had spoken. You can read the whole wonderful story of how God led us and protected us in my book This Was No Accident, if it ever gets published.
For the first couple of years, things moved slowly. There were some conferences and events in Hungary, Poland, Romania and Ukraine, but there seemed to be no real direction for the work. The Hungarian centre building was not finished, and the Ellel Ministries vision of people gathering there from all across Eastern Europe for "welcome, teaching and healing" seemed a long way off. But then it all changed.
In 1998 we were contacted by the Evangelical Theological Seminary in Kyiv, Ukraine – would we please come and teach a vacation school about prayer counselling? In the end, no students at all applied from the Seminary! BUT fifty other people applied from all across Ukraine, and from these fifty, something wonderful started all across the former communist world. This could only be God….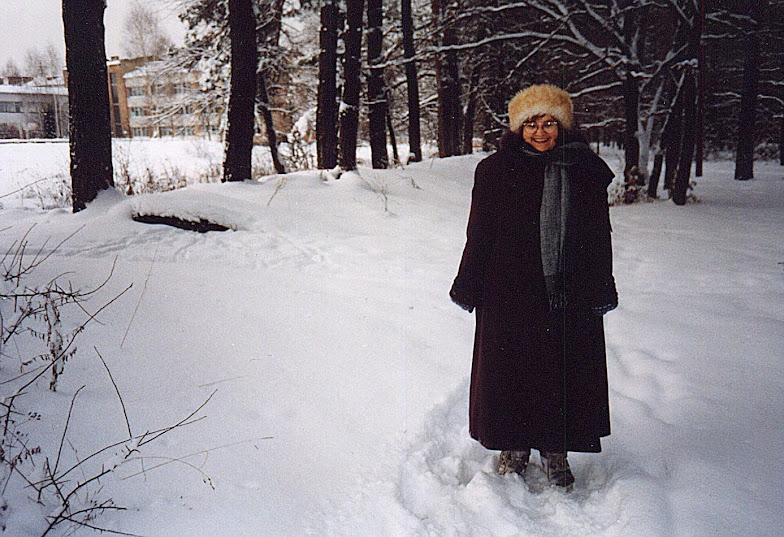 Christine, Ukraine 1998
December 1998 in Ukraine was not easy. There was just us two, teaching through the day for four whole weeks and ministering individually in prayer to each of our students in the evenings. Some of the teaching was already on VCR tapes with a translation, which was a relief. It was very, very cold. The less said about the food, the better. But we were lovingly supported by a small Ukrainian team, and the students were wonderful people.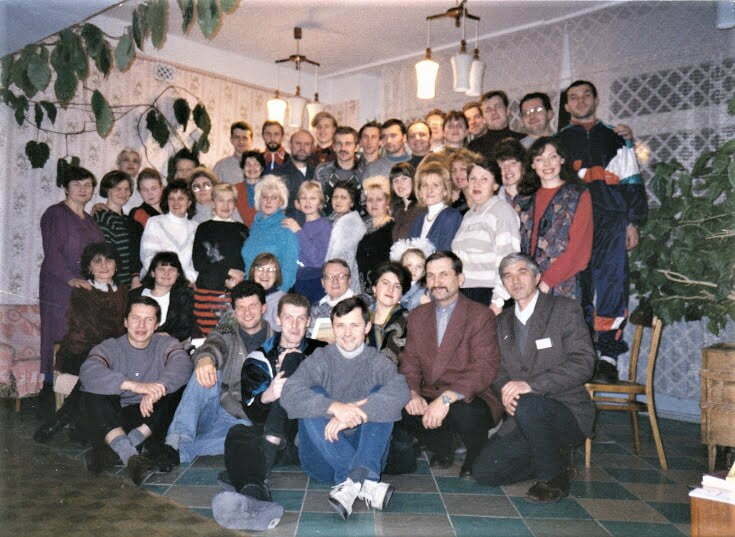 Ukraine 1998
The four weeks in April 1999 were different. The Spring weather was a delight. We had other people to help us too. Our students graduated, went back home – and it all started. Only God could have arranged this! More and more churches, first in Ukraine and then in different countries, wanted an Ellel team to visit, to organise conferences and schools, and to train prayer ministry teams. This meant travelling throughout the former Soviet Union – and that led to some really odd situations….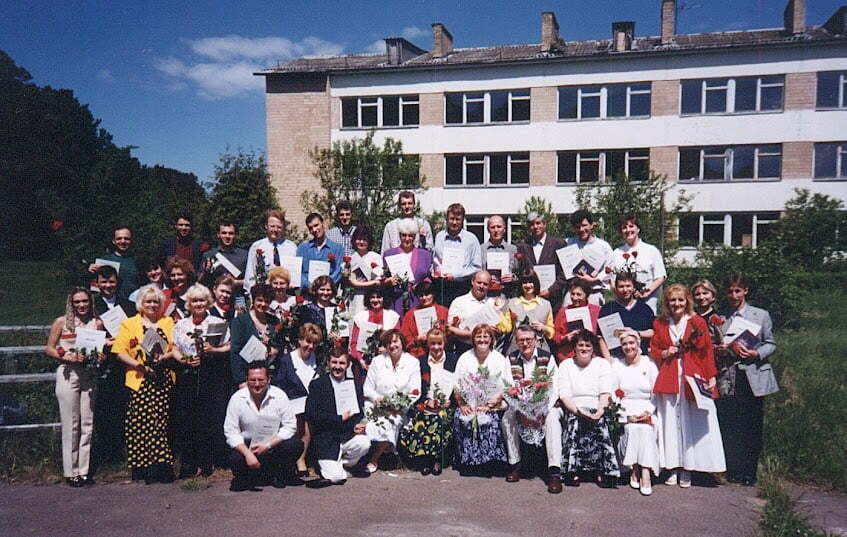 Ukraine, May 1999 graduation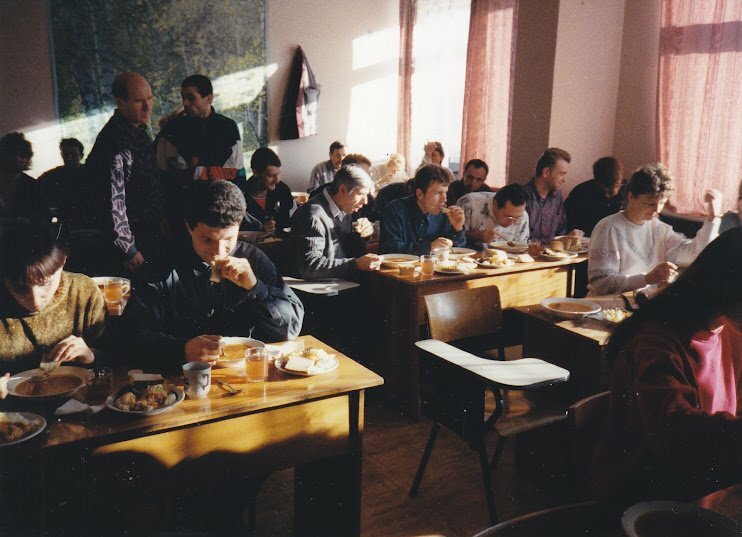 Ukraine 1998 mealtime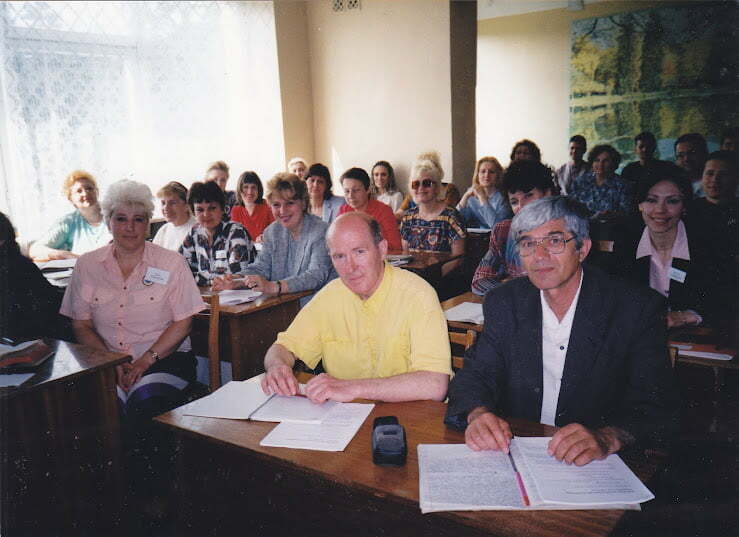 Ukraine May 1999 school
On one memorable trip to the Northern Caucasus, I had taught in Vladikavkaz, not far from Chechnya, on the Spiritual Roots of Communism – on 7th November, the anniversary of the Russian Revolution! We saw wonderful healings, spiritual, emotional, and also physical, as people repented of their involvement with the false religion of communism. But not all the audience were pleased.… One woman in a severe suit with blonde hair piled high glared at me throughout the meeting. At the end, she strode up to our translator Igor. (She did not know that I could speak Russian.) "Do you believe this rubbish?" she hissed. Igor said yes, he did. "How can they say this about the most glorious time in our history?" she cried, and she strode out of the hall.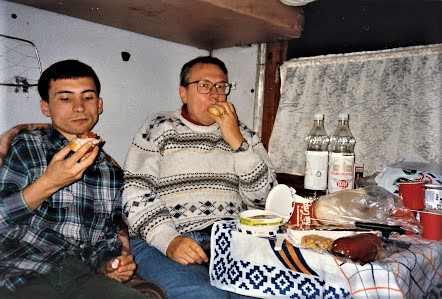 Roger (right) and Igor (left): dining on the train
The journey home was "interesting" too. To get back to Kyiv from Vladikavkaz, we had to drive out of the Russian republic of North Ossetia to catch a train from a town in the Stavropol region. This meant passing through the neighbouring mountain republic of Kabardino-Balkaria. At the border post, which was heavily fortified with sandbags and camouflage netting, the officer in charge was angry with Igor – why had he brought westerners here without an armed guard? Igor replied that we didn't need an armed guard, we had angels. The officer wasn't impressed.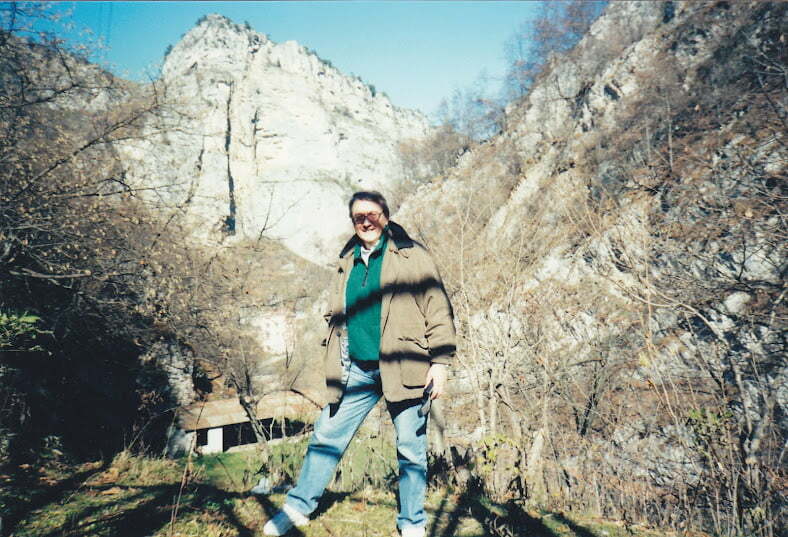 Roger, North Ossetia 1997
Things got even more interesting when we arrived at the station itself. Our minibus with its out-of-town registration was surrounded by men carrying AK-47s! Who were we? Where had we come from? Where were we going? When we got onto the station, we realised why they were so jumpy – the station was full of young conscript soldiers returning from the war in Chechnya. They were just lying on the platform, their blank faces grey with shock and exhaustion. Poor lads.
We settled into the train for the 36-hour journey back to Kyiv. Just before the Ukraine border, at about 3 a.m., a Russian border guard came to check our passports. He had to check our Ukrainian visas too, because if they were not in order we would be sent back to him and become "his problem", which he did not want.
But the conversation took a surreal tone as he jabbed his finger at a Ukrainian visa.
You have used this visa before!
Yes, it is a multiple-entry visa.
But you have USED IT BEFORE!
Yes, it is a multiple-entry visa. It says so here.
Get your things together!
He wanted to throw us off the train, somewhere between Russia and Ukraine, in the dead of night! Praise God, our Ukrainian team in the next compartment came to our rescue, and finally convinced him that we were OK.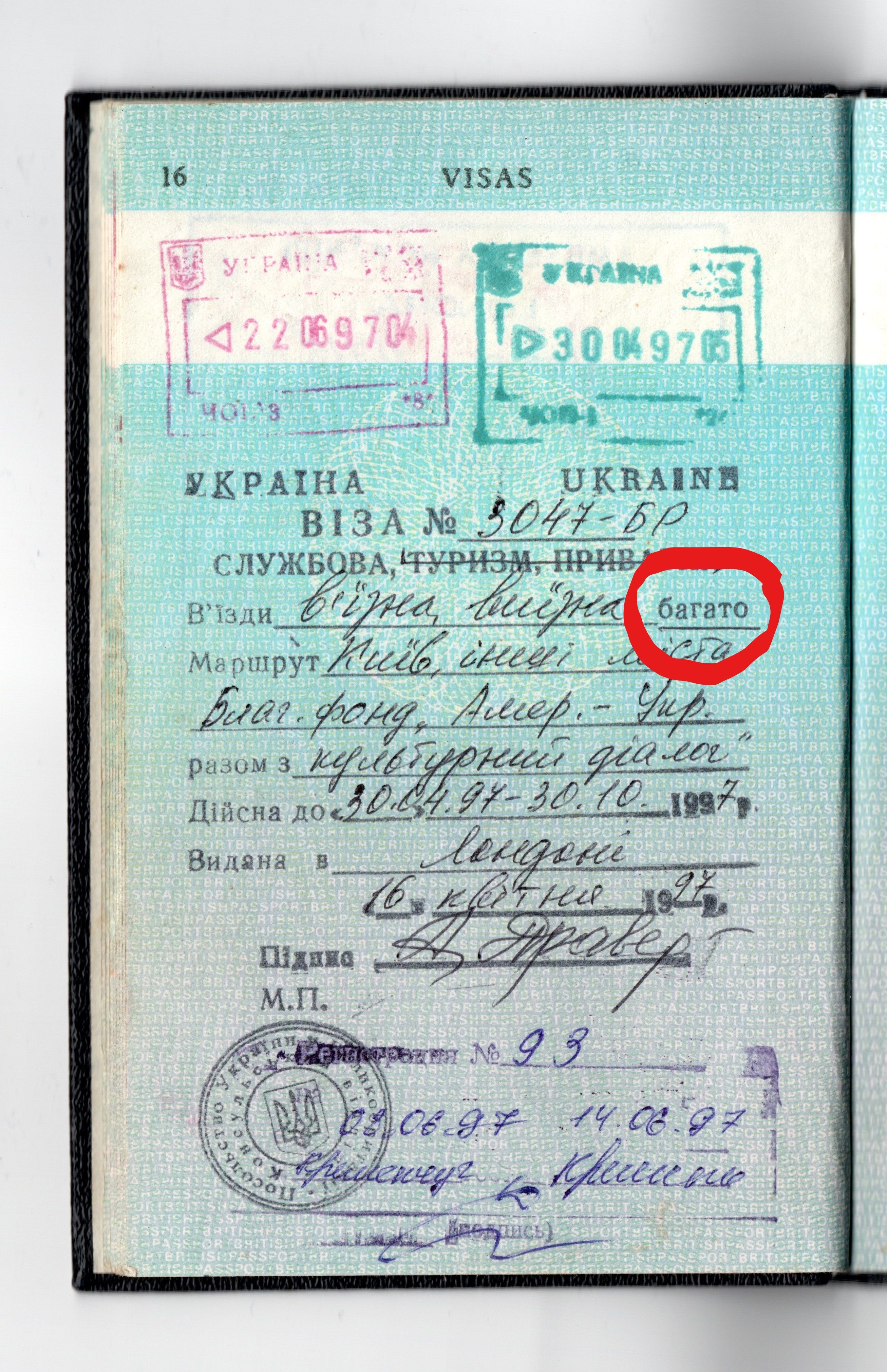 Our "multiple" entry visa
On another trip, we had to drive from Kemerovo in Siberia to the airport in Novosibirsk – about two hours away, on a highway covered in deep slush. I noticed that the minibus had tyres with hardly any tread left, but the driver evidently thought that 50 mph would be the right speed, so I spent the time improving my prayer life! At one point a huge truck hurtled past the other way, and I turned and watched in horror as it then jack-knifed all across the road. Five seconds earlier, and it would have swept our minibus with it….
There have been so many times like this – enough to fill a book. How did we get through this? In all of them, we have been surrounded by total peace. If you're where God wants you to be, his peace surrounds you. In Russian police stations, or being interviewed by the FSB, or expecting local government officials to come and check on our ministry school, we have always been surrounded by the perfect love which casts out all fear. Praise God!