Anya is part of our full time Ellel Ukraine team and assists Tamas Kovacs, our Central and Eastern European Director, with the Russian-language work. She has been living in Kherson throughout the war, which has been occupied by the Russians, and she has seen, heard and experienced the terror of war.
With your support, we have been able to provide more funds to Ukraine, meaning Anya can secure the purchase of vital medicines to war survivors in Kherson, which is largely cut off from regular supplies. Anya's amazing account, expressed through her diary below, shows how she has been distributing medicine against the odds, which meets local peoples physical needs, but has also at times given Anya the opportunity to minister with those she meets. She is God's own, walking into the lives of those with no hope and giving His love.
16th May 2022
Dear friends,
This Saturday I received a much bigger amount of medicine and I felt as if I have got the most precious treasure. We already distributed about half of it and prepare the next list for this week's delivery. The other half needs to be distributed soon. Please pray especially for God's protection when we distribute to villages on the other side of the river.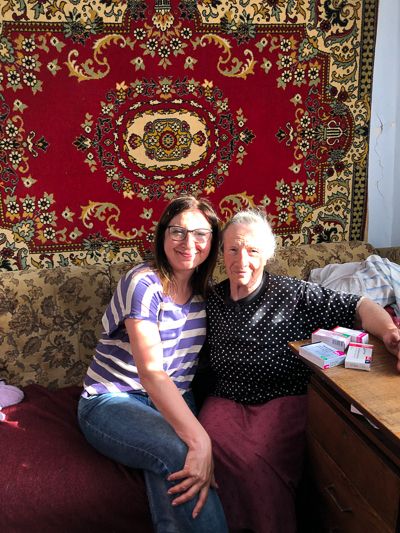 A couple of days ago I was standing in a queue in a grocery shop. Behind me I heard an older lady who said to someone, 'I have only two tablets for reducing blood pressure left. I couldn't find it in any pharmacy I went to. So… what next? Probably just need to die…' I stopped by that lady and asked her phone number so that I can bring her this medicine. Other people surrounded us, asking for the same medicine too. The same things happened to us all the time, when we bring medicine, others are asking for it. She was so happy to get her medicine.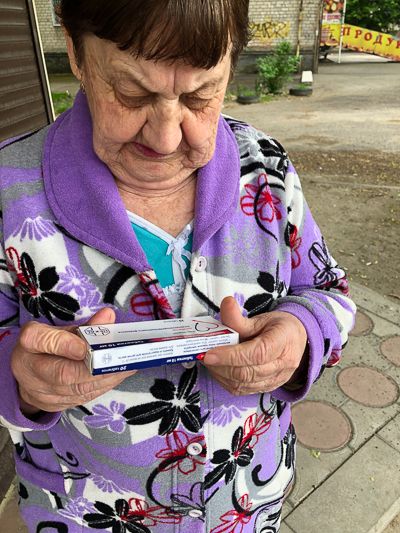 Another lady that we brought medicine to is suffering with panic attacks and is still sleeping with her son in their basement. We ministered to her in the area of shock and trauma that she experienced. She was in a field with her goats when an armoured personnel carrier stopped, and the soldiers got out and scared her. We prayed for healing and for freedom from fear. We helped her practically with medicine that lowers blood pressure and stabilises her heart condition.
Our city mayor wrote on Facebook yesterday: "Medicines in Kherson left for two weeks… When volunteers still travelled to Nikolaev and brought medicines, we transferred them to hospitals and distributed them to people according to prescriptions. Now the medicines are left for two weeks. There are no more solutions, few drugs for cardiovascular diseases, and there is also a need for oxygen. Therefore, if a green corridor to Krivoy Rog is opened, we need to bring medicines here…"
We are thankful to God and to you that together we (about 10 people involved in this process here) can respond to this crisis.
Abundance of blessings, Anya
20th May 2022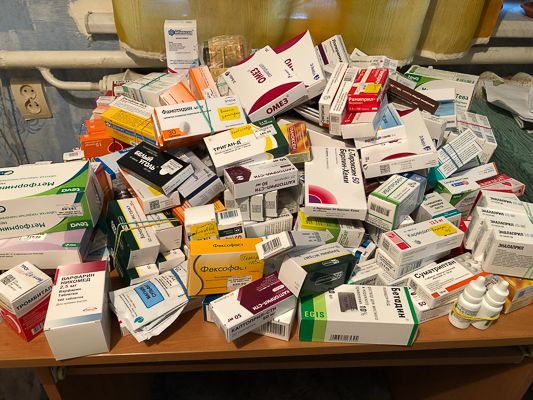 Thank you for your prayer support and for making our practical help possible. This week we received the biggest amount of medicine. Everything is complicated but it's so exciting that impossible things become possible as God is faithful and on the throne even in current circumstances.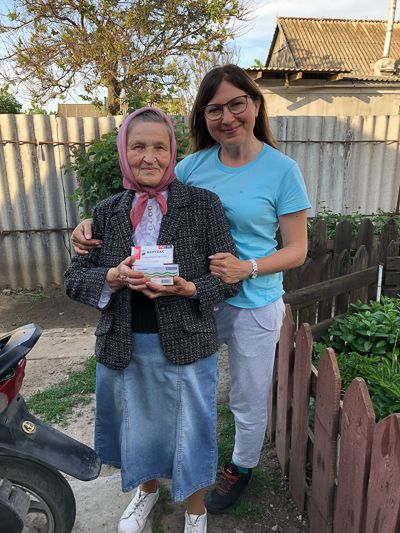 More and more people come and ask for medicines. An older lady comes to pick up her medicine and often she brings other older ladies asking for medicine too. So we increase…:)
In the moment I'm trying to make possible chemotherapy for an older man from my church. His medicine is quite expensive. Usually, chemotherapy was provided by the state but now they were told to buy it. I couldn't buy via the usual pharmacy that I'm working with. They said it's not available, but God provided it. We found it! Now we are trying to order it. Hopefully it'll be here next week. I plan to visit them next week and pray for this man too.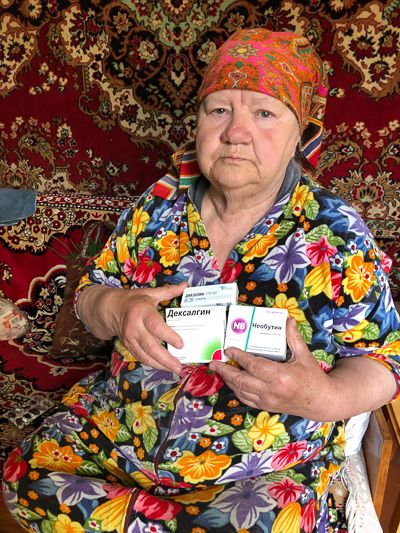 When we (all from church) distribute medicine, we pray for people both Christian and non-Christian too. No one refused. Sometimes we minister too.
I brought medicine to this older lady from my church and found out that the windows of their house were broken due to a missile attack. But their house wasn't destroyed as their neighbours' house was. If the missile had been 5 meters to the left, they'd have no house by now but God protected them. In this village near Kherson many roofs and houses were destroyed.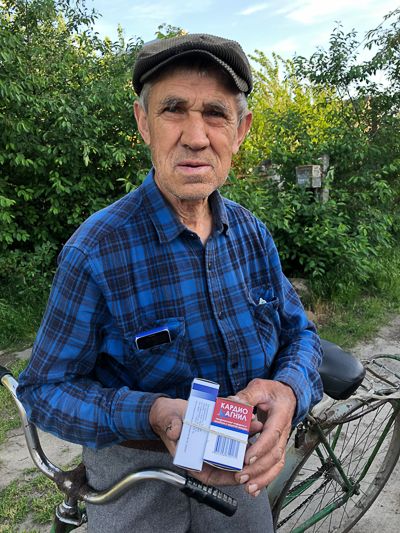 An older man whom I have on the photo above almost put me into tears. First, he tried to give me money. I realised that some medicine wasn't for him so he told me his story… He cares for his wife's sister who is older than him and is in bed 24 hours a day. His wife died. He in particular asked me to pass the blessings to everyone who made medicine possible.
Abundance of blessings and thanks, Anya
21st May 2022
Just now I was walking in the city and saw older women with shaking hands. I have medical education and realised that she needed medicine so I just stopped her and asked if she is ok. She said – 'No, I can't find medicine that I was taking prior to the war.' I told her that I'm a Christian and want to help. She even has no phone so in the moment I'm waiting for her by her apartment building whilst she brings her prescriptions. Such "meetings" happen almost every day. God is giving us for a season the ministry of compassion and He definitely has enough strength for us to endure anything. Thank you!
31st May 2022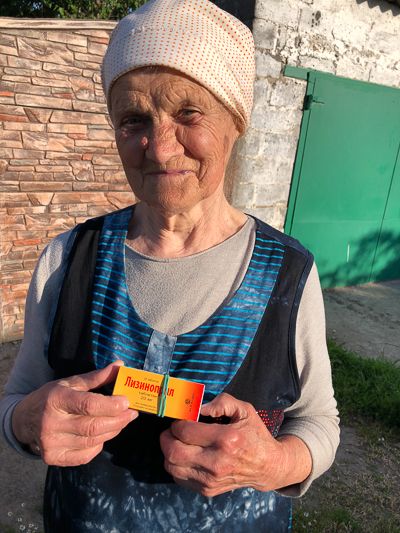 I am overwhelmed by your support. We ordered a huge amount of medicine and it's due to arrive tomorrow. Please pray for those who start travelling at 4am tomorrow from Crimea – it can take 24 hours to get to us because of the long queues at the border.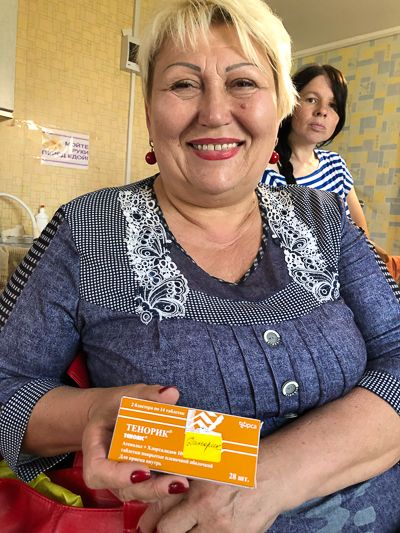 God is doing impossible things in providing for those who are in need. For example, one non-Christian lady asked for one particular medicine. My helper prayed for God to provide and when I checked what I had left from the previous week, I had one box of it. When she got it the next day after she asked, she was crying and so thankful as her sister is in the hospital with swelling. They were looking for medicine and couldn't find it.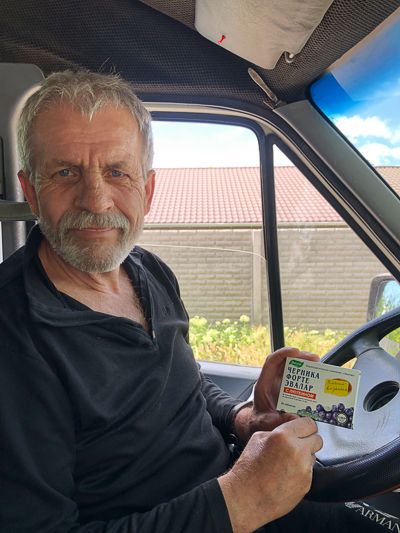 I'll write more another time as my internet is very limited in the moment.
Abundance of blessings and thanks, Anya
1st June 2022
Today the medicine arrived safe. The biggest amount ever. Thank you for making it possible. The line at the border can be 24 hours long. They left Crimea at 4am and were here by noon, PTL.
4th June 2022
Today I had an unbelievable experience. Together with my friend we visited an older lady that I met on a street and she took us to where she lived. I felt that I had visited Ukrainian elderly peoples home in the 1990s – I was there, the smell was exactly the same, the smell of sickness & hopelessness. She even allowed us to come to her kitchen.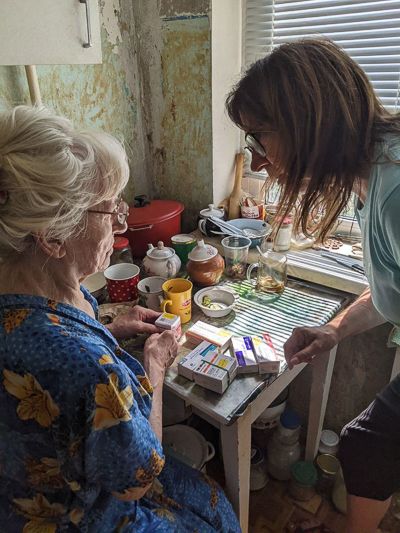 We spent some time with her, prayed, shared the Gospel and shared the love and care of Christ. She tried to give us some money while crying all the way through our talking and prayer. In the end she said – 'Thank you that in war around I experienced such expression of care.' I saw a very tiny glimpse of hope in her eyes while we were leaving… I told her that she is not forgotten and there are Christian people who'll come in a week to bring her food and other medicine needed. It's unbelievable – because I didn't think that people lived in such conditions in my city.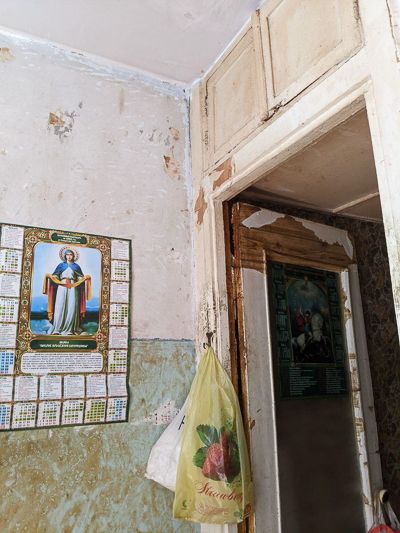 It's a privilege. Thank you for supporting it! Without your support we'd be able to help only in part but we bought everything that she needed and it's another miracle that everything was available. PTL!