My Creative journey began with an unlocking. For many years I had an inner knowing that there was something creative inside of me that was aching to be released, but I didn't know how.
God graciously and gently encouraged me to overcome my fears and to 'have a go' and allow myself to relax in His presence and play with a piece of clay at Ellel Grange during a Creativity weekend.  As I handled the clay, I began to mould it and discovered, in my hands, a baby nestled in the foetal position. I remember the surprise and delight and immediately felt as though a light had been switched on.
let go of fears and insecurities
That is all it took: a willingness to trust and to let go of fears and insecurities which had paralysed me into believing that I was 'no good' at anything creative.  From that moment on I felt released into expressing something that God had put inside of me and about which I had never known.
I then began a journey which took me to evening classes in clay modelling and in art. I found that God led me at first to paint portraits and figures and then to illustrate in clay that most amazing of all His creations, the human form. For whatever reason God has, other topics just do not attract me in the same way.
Since that time, I have had the privilege of practising and of sharing my models on the creativity weekends at Ellel Grange and at Blairmore. God has always led me to mould that which expresses something of His heart for the people He has created.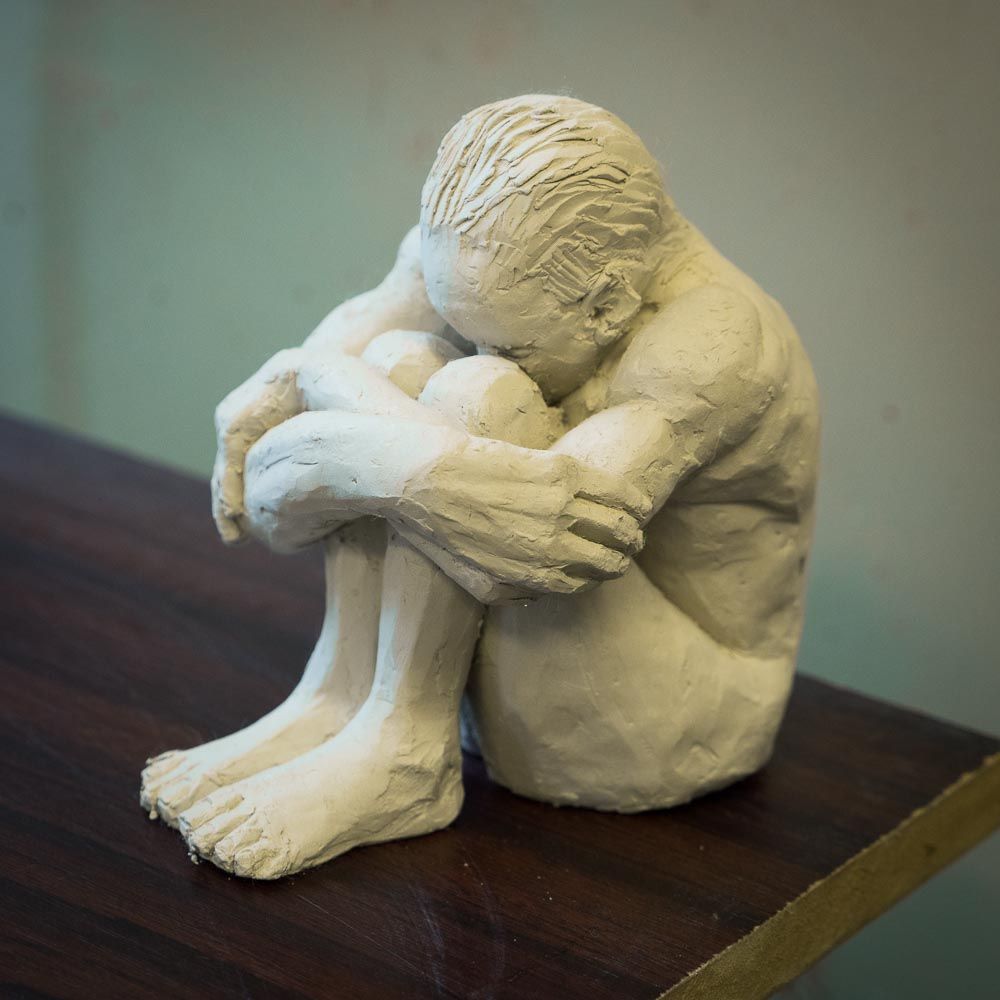 looking back can prevent us from moving into the new life God has promised for us
Some of my work illustrates a part of a biblical story, for example the Prodigal Son. This model was deliberately crafted with father and son in contemporary clothing because the invitation still, and always, will remain open for the prodigal to return to the Father. Lazarus, with grave clothes loosened, is another model which God inspired me to make: it demonstrates that Christ is the One who sets us free from those things which bind us. Lot's wife was created to illustrate that looking back can prevent us from moving into the new life God has promised for us as we walk with Him.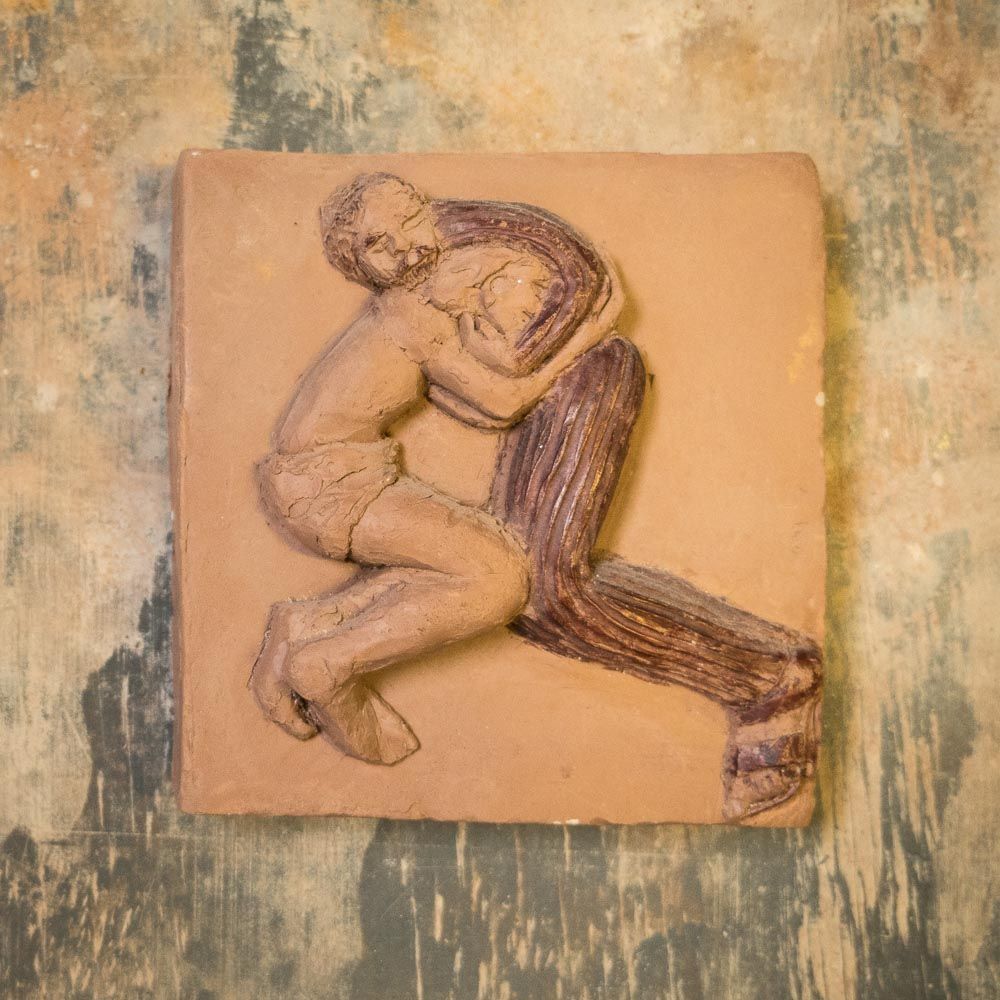 I recently wrestled with modelling the woman with the issue of blood. Initially, I made her downcast and hidden, but somehow it didn't seem to be what God wanted me to say. She has now lifted her head, is reaching out and looks up with confident expectation that Jesus will heal her.  The point is that the miracles and truth revealed to us by scripture are forever truths, and there for us to receive from our wonderful Lord and Saviour.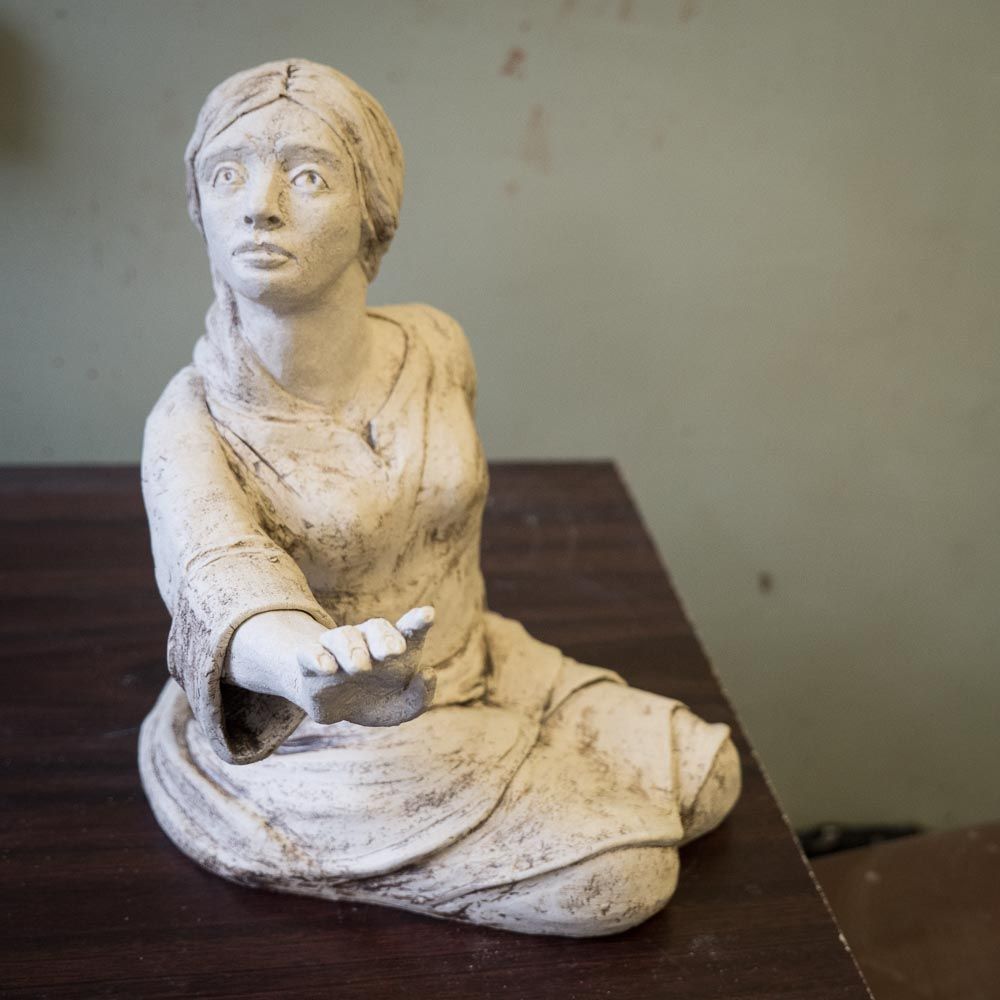 she said to herself, "If I only touch his garment, I will be made well."
Matthew 9:21, ESV
I have also made models which do not illustrate a biblical story but will always try to illustrate the heart of God: a baby resting and safe in the hands of the father; a hand holding a pearl of great price; hands pierced with nails; the head and torso of a man just resting and at peace with God; a woman dancing with the joy God has given her. These are just examples of some of the models I have made. Many of these are no longer in my possession. They are now with the people for whom a particular model made a significant impact. It is a joy for me to see that the communication I was trying to make from God has been understood.
I am continually looking for ways of improving the gift God has given me.
My journey in creating is far from over. I am continually looking for ways of improving the gift God has given me. I have strayed and gone in directions that appeared a good idea but were not of God. He has graciously allowed me to explore but has gently led me back to where He wants me to be.
Another delight that God has blessed me with is that I do make other models which are just for fun. This may be a comical bird or a figure to make me, and the family, laugh. God wants us to enjoy the gifts he has given to us. I am not constrained to be serious and 'spiritual' all the time. God made me human to enjoy and delight in being able to be just 'me' and to take delight in the world around us.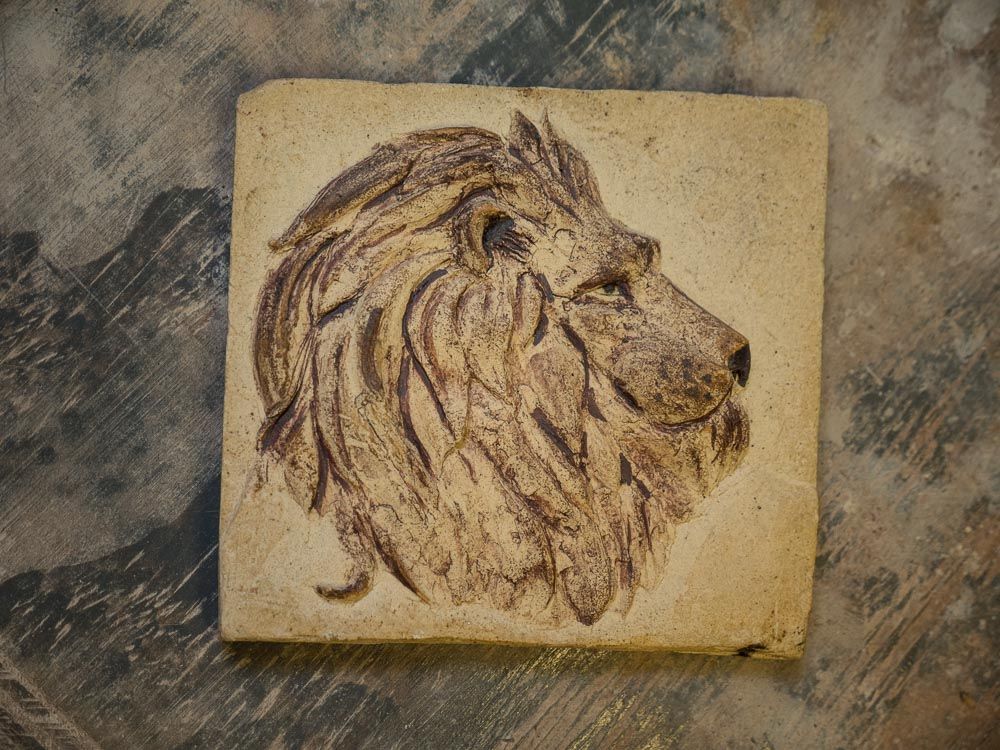 This is who I am, and the way I express my love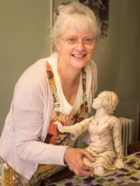 As God is shaping and moulding me, so too am I shaping and moulding the clay to become that which God has always intended it to be.  This is who I am, and the way I express my love and indebtedness to the One who always is and was, and evermore shall be.
Angela Whitaker has been part of the "Healing through Creativity" team at Ellel Grange for many years and ministered healing through the process of creativity.
---